3 Strayin' Runaways
Geographically, the Rock 'n' Roll Runaways have their roots in the wild west of the Republic - they are sort of 'local heroes' in their homeland at Aachen - nevertheless they regularly leave the city and even Germany behind for countless forays for new victims to be rocked to the top.

"Handmade Rock 'n' Roll" is what they call their musical base, yet that claim has no borders, in regard of age or origin. First of all it's a prosperous ground for Marc (Guitar and Vocals), Malle (Bass and Backings) and Martin (Drums) - and that's a fact.

As a result of the instrumental reduction to the essence thex produce a pure and straight style that captivates any audience immediately. The powerful performance overcomes the crowd like a stampede - resistance is futile.

Chief Rockhead are raiding the musical heritage of a widespread genre, just to transpose the countless inspirations of many great idols into the 21st century - stamping their own arrangements as selected interpretations with a brand sign of actuality.

Their sound is hardly caught in words, yet there are better ways for such an experience. Best of course is to see them live on stage, so check the gig dates. A first impression is also given by the songs and videos offered on these pages.

So in your own interest, get familiar with those guys...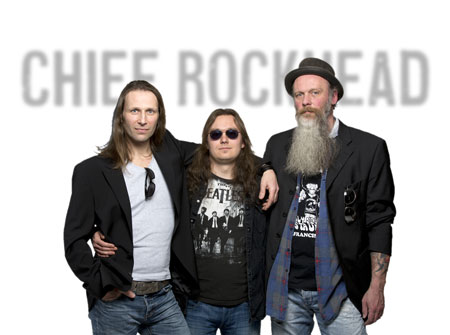 No longer just an insider tip: CHIEF ROCKHEAD
Press Media kit
For best support of official warnings, we collected and present at this stage any given intelligence material and proven samples for you to download: